The Yamaha Arius YDP 143 Digital Piano comes with a GHS keyboard with matte black keytops. Available in an upright design, it has several features for students as well as teachers.
PROS: Value-for-money, trusted brand, good features
CONS: Entry-Level Piano in the ARIUS series
Who Is It For?
Serious piano learners
Piano tutors
Those who want an affordable piano for practicing
Review
The Arius YDP-143 is a value digital piano that provides authentic piano touch (GHS) and a good tone (samples from Yamaha's CFIIIS 9-foot concert grand piano), which most aspiring pianists desire. The piano provides authentic piano touch that's a must for any aspiring pianist. Available in an attractive finish, the Arius YDP-143 lends a classic piano look to any home interior.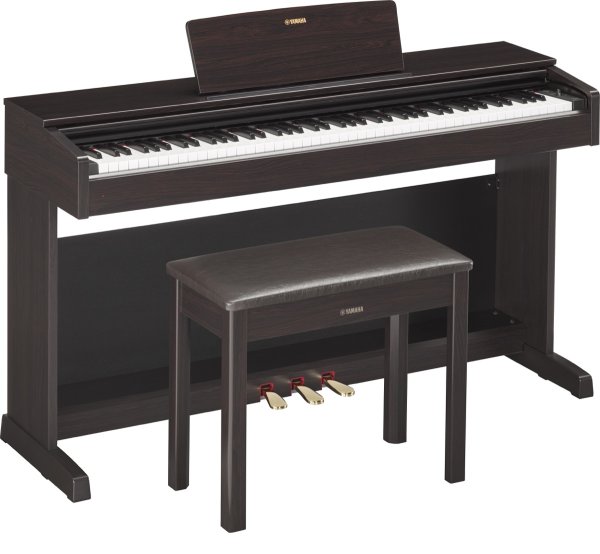 Half-pedaling
You can use continuous or half-damper pedal when pedaling on this piano.
Optimal tone
The Acoustic Optimizer physically adjusts the acoustical flow, which controls resonances and enriches the overall sound, at any volume.
Capture your performances
Use the 2-track song recorder to capture your performances and play it back, or just use it to create your musical ideas.
Practice with a Friend / Teacher
You can practice with your friend or teacher in total privacy, using the dual headphone jack.
Build your Repertoire
Learn the 50 classic piano songs that are provided in the built-in song memory and also as a music book, "50 Greats for the Piano."
Video Review
Here's video review of the YDP 143 piano:
Buy Yamaha YDP-143 digital home piano
Specs
Here are the key features:
Available in rosewood & Black Walnut finish
Number of Keys: 88. Key Action: The Graded Hammer Standard (GHS). Weighted Keys: Yes
Built-in Speakers: 2 x 6 Watts
Pedals: 3 Built-In (as on a real piano)
Voices of Polyphony: 192
Number of Sounds: 10. Accompaniments: No. Rhythm Patterns: N/A
Demo Songs: 10 Demo Songs, 50 Piano Preset Songs
Split: No. Layer: Yes. Transpose: Yes
Song Recorder: Yes. Tracks: 2. Songs: 1. Storage Type: Internal
Metronome: Yes
Outputs: (2) 1/4″ Stereo Headphone. Inputs: N/A
Connectivity: USB
Most find this piano very easy to assemble, and are happy with its realistic sounds and keyboard touch. Beginner students & teachers, who want an upright piano from a trusted brand, are happy to use this piano.
Overall Ratings
The Yamaha YDP-143 digital piano comes with GHS keyboard and realistic sounds making it suitable for most beginner piano students.
Buying Options