Toy Piano & Keyboards. These are perfect musical instruments for introducing kids to music; the ones for infants are more to generate curiosity, whereas the ones for toddlers can actually be used for learning music. The benefits of music on kids is well documented; research has shown that learning to play a musical instrument enhances brain development. The price of these toys is too little to pay considering the long term benefits to your child. We have covered a range of toy pianos here – the acoustic ones, and the electronic ones. Skip to the best toy piano on Amazon.
Recommended / Best Toy Pianos
You may have a piano at home and if your kid is too small for a piano, a toy piano would be a nice and cuter option, more appropriate for his/her age. These toy pianos look cute and produce pretty sounds. Some of these may require assembling but its pretty easy to set them up.
A toddler piano also makes a great and unique gift idea for a child's birthday!
Best Expensive (Korg tinyPiano)
Best Mid-Range (Schoenhut 30-Key)
Checkout some of these popular toy pianos and keyboards.
Best Toy Pianos for Toddlers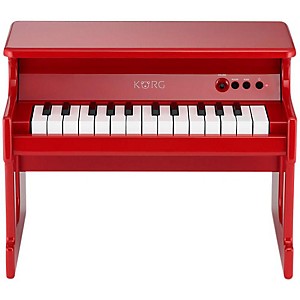 Korg tinyPiano Digital Toy Piano
The Korg tinyPiano comes with 25 velocity-sensitive mini keys and has a great set of built-in sounds, including a great-sounding grand piano sound. It looks cute, but is well built, high on quality of construction and has great sounds (after all its from Korg).
See PRICE on Amazon
Schoenhut Toy Pianos
Schoenhut is the world leader when it comes to manufacturing toy pianos, and they have a wide range of models that are shaped like upright as well as grand pianos. Checkout their entire range of toy pianos here.
See PRICE on Amazon
Melissa & Doug Toddlers Classic Grand Piano (30 Keys)[/easyazon_link]
This toddler piano looks like a classic grand piano, and uses a safe hinge to ensure the child's safety. This piano comes with a bench and the height is perfect for toddlers to sit and play the keyboard. The piano comes with 30 keys, and comes with a color coded chart and songbook to aid learning.
Looks sturdy, is suitable for ages from 4 to 6. Dimensions are 23.7 across, weighs only 28 pounds.
Melissa & Doug Piano (25-Keys)
If you child seems to have an ear for music, and is willing to learn, this can be good piano to begin with. It is brightly painted piano with 25 keys (2 octaves), sounds good and fairly durable.
Goplus 30-key Toy Grand Baby Piano
The Goplus 30-key Toy Grand Baby Piano comes with matching Kids Piano Bench and music holder. Material used for making the piano: MDF board+Birch wood+ABS plastic. Suitable for toddlers & children up to 7 years old. Good value for money.
Schoenhut actually produces a wide range of acoustic toy pianos, and they are one of the leading brands in toy pianos. You can checkout more Schoenhut pianos here.
Best Pink Toy Pianos
Although these can be used by boys as well, pink toy pianos are favored my most girls. Here are some of the popular pink toy pianos.
Schoenhut Learn-to-Play Baby Grand Toy Piano (30-Keys)
Includes: Schoenhut's patented Tri-Play Learning System and bench. Safety standards including EN17, ASTM, and CPSIA. Durable and safe. Intended for ages 3 and up.
Schoenhut is the leader when it comes to making acoustic toy pianos, you can checkout their wide range of toy pianos here.
Little Pink Piano for Girls (31 keys)
31 Keys Little Pink Piano for Girls with Microphone Electronic Organ Music Keyboard for Kids by Baoli. 31 keys light control;8 percussion instruments / 3 teaching modes / 4 musical instruments;4 accompaniment styles / 22 demo songs;colorful rhythm light;record / play function / volume / rhythm adjustment.
Mallya Pink Toy Piano Keyboard 31 Keys
Baby keyboard with 31 keys / 8 percussion, butterfly shaped flashing LED lights and Karaoke, 4 musical instruments / 22 demo songs. Made of baby safe material. Lot of buttons, nice music.
Korg tinyPiano Digital Toy Piano (Pink)
The Korg tinyPiano comes with 25 velocity-sensitive mini keys and has a great set of built-in sounds, including a great-sounding grand piano sound. It looks cute, but is well built, high on quality of construction and has great sounds (after all its from Korg).
Toy Pianos/Keyboards for Infants / One Year Old
Here are smaller sized toy pianos/keyboards for babies around 1 year old and younger.
LeapFrog Play Piano
This toy keyboard is fun, colorful, interactive, sturdy, affordable, and above all it teaches as well through play. Your kids will love watching the balls go up and down everytime a keys is pressed. You can easily select one of the various modes while playing, such as music, color, or counting.
Baby Einstein Count and Compose Piano
Here's a nice little toy that intrigues the baby and keeps his/her attention for long. Doesn't play the same thing repeatedly and loudly as most other toys do which drives most parent crazy. Every time you press a key, the piano plays out a different musical phrase, and more importantly the speakers are good and it's pleasant to listen to.
Baby Piano Toy for Crib
Fisher-Price Kick & Play Piano Gym
Fisher-Price Kick and Play Piano
More Toddler Piano Reviews
Kids and younger children have a lot of variety, besides just going in for the Casio mini keyboard.
Depending on the age of your child, you may also choose toy pianos and musical keyboards that are available from the bigger names of the Toy industry.
Melissa & Doug, Fisher-Price
Usually, most of these toy musical keyboards are meant for 3 years and above. But even kids smaller than 3 years should find some these musical keyboards amusing (they are nontoxic), though it will be more useful to a 3 year old than your 18 month old.
Kids love music and these small-sized pianos makes it easy for your little ones to start playing (or rather banging) on the keyboard. The sound quality may not be the best but they are sufficiently in tune to play your favorite songs.
Schoenhut Pianos
Schoenhut are popular for their small acoustic toy pianos. These are designed to look like real pianos but are much smaller and have far lesser keys. Usually toy musical keyboards and pianos come in 30 keys, 25 keys, 18 keys and even lesser keys.
So if your kid is a bit grown up, it makes sense to get one with 30 or 25 keys so that your child can continue to have fun with the keyboard instrument later on, when he/she can actually play something.
Electronic Toy Keyboards
These can be used by kids aged 3-4 years (and above).
Casio Mini Keyboard
The Casio Mini Keyboard is a 44-key keyboard with several voices and rhythms; perfect for introducing your kids to the wonderful world of electronic music. Read more…
eMedia Starter Piano Pack for Kids
Fun easy keyboard teaching system for kids. 49-keys, built-in speakers, USB cord provided for plug-n-play, includes interactive My Piano CD-ROM & bonus DVD Read more…
See more Electronic Keyboards…
Other Musical Toys
There are several useful music toys for babies and toddlers as well. So you can get them started as early as you wish. Here are more Music & Sound Toys for Baby & Toddler.
You can also check out some cool learning systems, software, and electronic learning toys here for grownup kids.
Toy Pianos: Buying Guide / Factors to Consider
Want to expose your children to music at an early age?Looking for a birthday gift for your little one or for someone who is very close to your heart? Is your child already showing interest in music? Baby Toy Pianos would suit perfectly! Some of these are actually mini acoustic pianos that look elegant as well.
Why Buy One?
A baby toy piano can help your child learn important music skills early in life, which has been proven to benefit in other areas as well.
These products not only helps your child to learn music, it also helps them to improve their motor skills. Besides, it has been proven that learning music can help children to perform better in other areas like studies and sports.You can always start on an electronic kids keyboard but if you want something that sounds (as well as looks) better, these can be good options.
There is no doubt that music has the power to improve a child's intelligence and life's skills, and that is why the gift of music is one of the best gifts you can ever give your children. With these products, you can easily introduce your little ones to music as early as possible, and maybe even prepare them for future piano lessons.
What to Buy?
Most of the toy keyboards are usually meant for toddlers/children who are less than 5-6 years old, with some of them for infants as well.
When choosing the right toy piano for your child, consider getting something that is small, colorful, and fun, something that can attract your child's attention. For most practical purposes, the best toy pianos for toddlers and small children are usually the ones that are colorful, appealing, fun and above all has a bit of unpredictability built in it.
They will probably find the bigger keyboards overwhelming and probably may even lose interest in playing them later on. Once, your child is around 6 or 7 years old, you may consider getting them a full sized electronic keyboard, or maybe even a digital piano. However, even for this age group, you do get good toy pianos, such as the ones from Shoenhut, which you may consider in case your child shows potential.
Types of Toy Pianos
Most of these instruments are really toys that come in various colors and designs, that are made to attract the attention of small children. The sound quality is okay, and more like how a toy should sound.
There are several, smaller sized toy keyboard models available (most of these are electronic), but you do get proper piano (and grand piano) shaped toy pianos as well (most of these are acoustic). You get toy pianos that are designed as upright or grand pianos that resemble the real pianos with keys. The pianists performing in the video are actually using these. Though most are plastic, the better ones are made of wood. So if you wanted a beautiful toy piano that looks like an upright or a grand piano, sounds great, something that comes with a kids piano bench as well, you will find them, we have listed several such pianos on this page.
The most basic ones may not have black keys, or the black keys may be painted on. This is more for the infants. Also, some of them can play only the diatonic scale, but not the chromatic scale. So if you are trying to play your favorite song, you may not be able to play it. Hey! But then these are for the babies.
Typically, diatonic toy pianos have only eight keys and you can play one octave. These have the same musical scale as full size pianos, although the tuning in some of them could be approximate (the cheaper ones especially). When I say cheaper, I mean something that is for infants or 1-2 years, where the scale and sounds do not have to match those in the real pianos. The Shoenhut ones have more keys and will let you play many more songs.
For What Age Group?
Most of these toy pianos are suited to kids in the 3 to 6 years old age group (we have listed a few for infants as well), so you will find baby toy pianos as well as toys that are suitable for slightly grown up kids.If you already own a grand piano at home, your children will love these pianos (with the traditional looks).I am sure these toys would be an instant hit with the babies and will soon become one of their favorite toys.
Buy As Per Age (Right Size of Piano)
We have listed several toy pianos here because even though a toddler is between 1-3 years, what a 1 year old may require could be different from what a 3 year old wants, so pick up something that suits the age of the child. As you can see, the pianos listed here have different sizes and dimension, so make sure to choose the right size for your child.
Keep an Eye on Safety
A word of caution though, if you buy one of the bigger toys! You need to remind your kids not to get on top of the bigger sized toy pianos, especially the grand piano ones.Though they are designed to be sturdy, they could topple over. More than damage to the toys, your kids could end up hurting themselves. Nothing to be worried about, but you need to be careful!
Here's a video of a baby toy piano that also serves as a creative baby preschool educational tool. In addition to teaching the musical notes, it also teaches the about animals and musical notes. Its a great teacher to your baby, of course after the mother. Its a great way to keep your baby entertained and a great addition to any toy collection.
Looking for more toys to keep your baby entertained? A baby toy piano is a great addition to any toy collection. In addition to teaching the musical notes, it also teaches the about animals and musical notes. Its a great teacher to your baby, of course after the mother.
Checkout more baby toy pianos here.
Toy Pianos Used by Composers Too
A toy piano, also known as the kinderklavier (child's keyboard), is a small piano-like musical instrument that produces chime-like sounds. And if you have spent some time looking around for these musical instruments, you may have definitely come across the brand "Schoenhut", named after a German immigrant named Albert Schoenhut who invented it way back in 1872.
The benefit of music on a child's brain development is well documented, but if you think that toy pianos are only going to be used by babies and toddlers, think again.
There are lot of composers who always strive to do something different, and in that quest, a lot of them have composed pieces specifically for the toy piano and many have even extensively used the sound of the toy piano in various music compositions.
The toy pianos made by top brands, such as Schoenhut, are actually used by musicians as well, because of their unique sounds. Several music composers have used a toy piano in their music compositions before.
Vintage Toy Piano


Watch: Take a look at this Vintage Child's Toy Schoenhut Piano


Toy Computer Keyboard: Online Playable TOY-PIANO
Want to try out the toy piano online? Here's an online playable toy piano that you can play using the mouse of your computer (doesn't work with the keyboard though). It sounds like a real, top quality toy piano. Here's the link.
More Kids Resources
Final Thoughts
Everybody would love to own a big, grand piano, but its not practical in most situations and there's also the right time to get them. If the piano is going to be for kids, you have several smaller options to start with. A baby toy piano has a nice distinctive sound and will not only provide entertainment, but will also teach important skills to your kids for a few years to come. So looks like a perfect gift for your little ones! Toy pianos such as those from Korg and Shoenhut have superior sound quality, portability and durability. Your kids can use these until they are ready to progress onto the acoustic, digital or keyboard piano.