Roland Synths: Review of these competitively priced and full-featured synthesizers from Roland. Roland synthesizers pack powerful sound, sequencing, and audio recording features into one amazing instrument, suited to the serious musician.
Want to try your hands at recording or intend to perform on-stage?
Have already owned a keyboard synthesizer before and want to upgrade it?
Have a look at Roland Synthesizer!
Roland Synthesizers are known for their great analog sounds, ethnic styles, & robust build quality. These Synths come with extra-large display, and have dedicated knobs and buttons to access the various functions, making them great for live performances as well.
Roland Keyboard Synths: Various Products
Here are the popular synth models.
Roland Juno Gi

Priced around $900, the Roland JUNO-Gi is a compact, easy-to-use synthesizer that deliver impressive sound at an affordable price. You can compose and capture your songs with the 8-track digital recorder, you get over 1,300 sounds and reliable Roland construction. Read more…
Roland Juno Di

Priced around $700. Built for the live keyboardist, the JUNO-Di synth is a great alternative to a heavy, expensive workstation board, with hundreds of playable onboard sounds & effects. Read more…
Roland Fantom-G

Price: $3000 to $3500. Roland Fantom-G is a music workstation with an advanced sound engine, ARX SuperNATURAL expansion, large-sized color LCD and more. Available in 61 and 88 keys. It's a complete portable studio and you will get all the power, features and performance control to give shape to your creative ideas. Read more…
Roland Jupiter-80

Price: $3300 to $3500. The Roland Jupiter-80 is a live-performance powerhouse synth with user-friendly operation, features a color touchscreen, SuperNATURAL technology and much more. If you are looking for a monster synth with some killer sounds (from pianos to synths), this is the one to consider. Read more…

Roland Jupiter-50

Price: Around $2000. Inexpensive alternative to Jupiter-80. You get amazing sounds, from fat virtual-analog synth sounds to breathtaking SuperNATURAL samples, Roland's gig-worthy Jupiter-50 delivers everything a live keyboardist needs. Read more…

Roland V-Synth GT Synthesizer

Price: Around $3500. Roland's original V-Synth set a new standard in expressive synthesis and sound design. It won awards and acclaim around the world, as it forever changed the way sounds were created and performed. But just when you thought V-Synth technology had reached its peak, Roland raised the bar even higher with the new flagship V-Synth GT! This unique instrument injects the V-Synth's famous Elastic Audio Synthesis engine with revolutionary Articulative Phrase Synthesis technology. Its expression and realism is unprecedented, as is its ability to make never-before-heard sounds. Read more…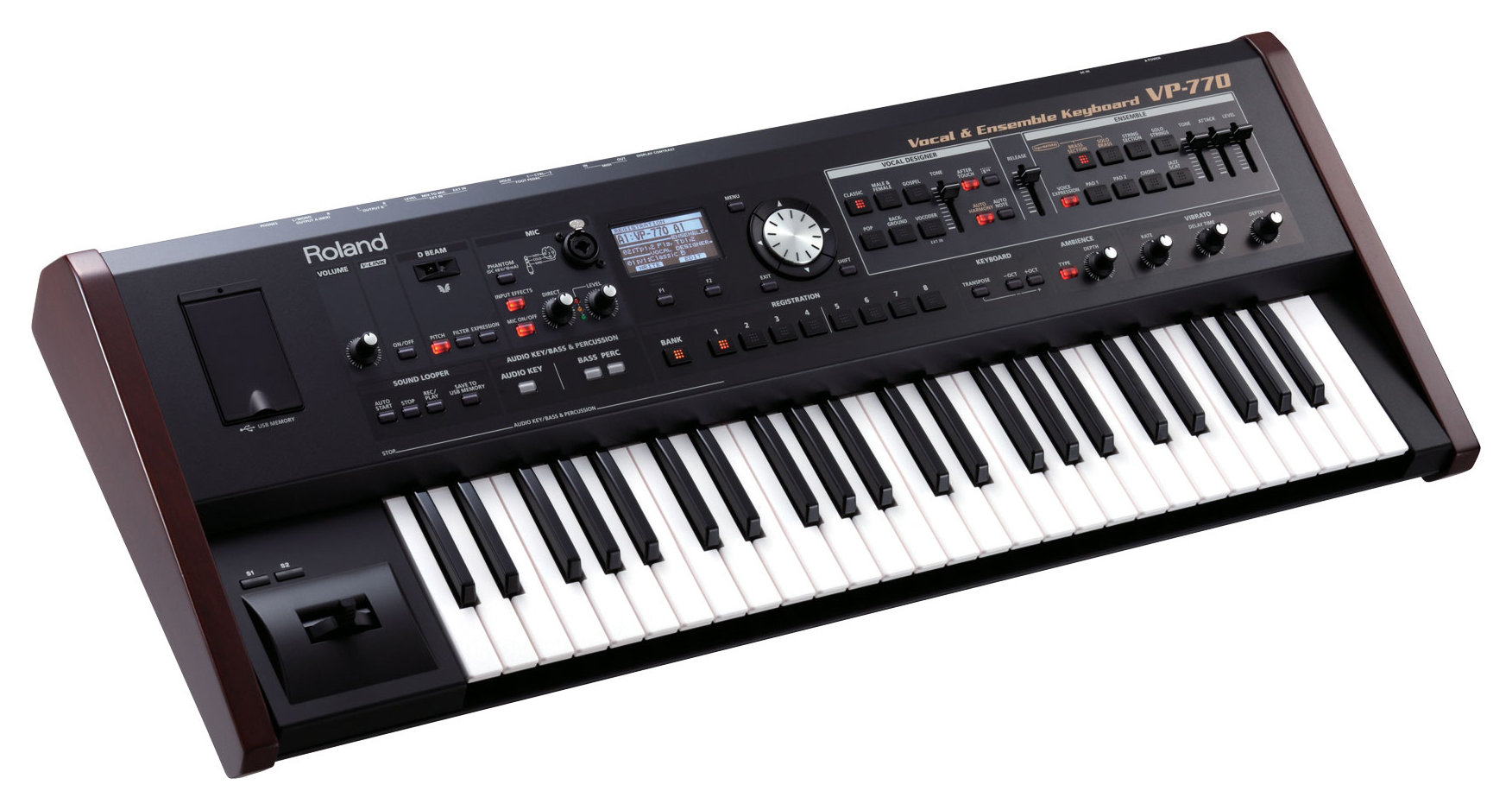 Roland VP770 49-Key Vocal and Ensemble Keyboard

Price: $2100 to $2200. For musicians who can't accommodate a choir or group of background singers for their gigs or recording sessions, Roland proudly presents the VP-7700 Vocal Designer Keyboard. It is much more than a traditional vocoder or harmonizer! The VP-7700 uses Roland's breakthrough vocal-modeling technology to bring the highest-quality, interactive vocal sounds to a dedicated instrument. Read more…
---
Roland Synthesizers are generally known for their great analog-style sounds, their authentic ethnic styles, and their ease of use!
Besides their sounds, they also have a very good reputation for quality. A Roland synthesizer is sturdy and well built, and you can expect all the knobs and buttons to be working normally even after a few years.
Most of these Roland Synths come with an extra-large display, making it much easier for you to look at the various selections at a glance. They also have lots of knobs and buttons, which give you quick access to the various functions. This makes them ideal for live performances as well.
Roland Synthesizers – Advanced Features
The High end models have dual-core sound engine that gives you almost unlimited power to create new sounds – layered, split, single patch, etc.
Some of the onboard synthesizer technologies include:
Elastic Audio Synthesis
Vocal Designer
AP-SYNTHESIS
COSM analog modeling
PCM wave sampling and playback
Dedicated Category Buttons
Roland synthesizers provide a lot of knobs and sliders for controlling most of the sound parameters, so that you do not have to navigate through the LCD.
The dedicated category buttons simplifies the process of finding sounds and patches. It is much easier and faster this way!
In fact Roland keyboard synthesizer, like the SH-201, does not even have an LCD! You straight-away use the knobs, and forget about navigating through the LCD to a certain section.
Roland Synthesizer – First Timers & Pros!
Roland synthesizers pack enough sound, sequencing, and audio recording features into one instrument, for you to do your entire studio work.
Most of the Roland synthesizers share the same high-powered processor as Roland's famous Fantom-X series, and are sturdy enough to be used for gigs as well.
On the other hand, the user interface is intuitive and with all those knobs and sliders, it is easy for a first timer as well. First timers, travelling musicians and professionals will fancy the user friendly, portable, and great-sounding synths from Roland.
Summary – Roland Keyboard Synthesizer
Roland produces some of the most powerful synthesizer keyboards for professional use. These are strongly built, and make you less dependant on the LCD by providing various knobs and sliders. You can find some very powerful sound creation and audio recording features on these keyboards.