Introducing Roland Digital Stage Piano – packed with the best features and sounds, these are sturdily built and gig-ready
Roland Stage Piano: Various Products
Here are the more popular stage pianos.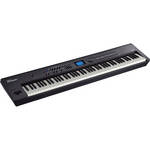 Roland RD-800

For the gigging artist who wants the best sounds and excellent piano touch. You get to choose from hundreds of built-in instrument sounds. The RD-800 is a bit on the heavier side, both the keyboard as well as the keys! You get Roland's world-famous SuperNATURAL pianos plus hundreds more sounds to gig. You get dedicated knobs, road-worthy metal panels with tough plastic endcaps, and an angled rear panel so you can easily see all its jacks from the front of the keyboard. This is a serious gigging machine. Read more…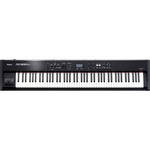 Roland RD-300NX

Designed for the serious gigging musician, the Roland RD-300NX is a toned-down version of RD-700NX. Its a lightweight stage piano that still sounds and plays up to your professional standards. Read more…
Roland FP-7f

The Roland FP-7F digital piano comes with excellent features and sounds that allows for enhanced creativity. Its available in black and white finishes, and comes with an optional RPU-3 triple-pedal unit and an optional matching KSC-44 stand. The Roland FP-7F is suitable for piano practicing at home or for performing on stage. It has good keyboard touch. Though it has several sounds, the piano sound stands out compared to the rest. If you are a singer, just plug in a microphone and sing-along. The onboard harmony engine lets you add up to three voices to accompany yourself. Read more…
Roland FP-4f

The Roland FP-4f is a lightweight digital piano, but with a nice weighted action. It comes with the acclaimed Supernatural Piano engine and a deluxe Ivory Feel-G Keyboard with Escapement. Compact and comes in a beautifully finish. If you find the Roland FP-7F more expensive, the FP-4F is the next best option. The keys are ivory feel and have a good touch (though not like the Roland FP-7F) and suitable for learning or for piano practicing at home. Read more…
---
When it comes to Roland, the portable pianos doesn't necessarily means they are cheap and for beginners, unlike few other brands. Roland has a very good lineup of pianos that can be used by beginners though, but mostly for use by experienced players and those looking for a better quality product.
Roland has a range of pianos that target various piano players depending on their needs and budget. The Roland FP-4F is a good digital piano for practicing or learning, and comes with a nice piano feel. But if you are looking for the best keyboard touch, with additional features, and don't mind spending a few hundred dollars more, you can check out the Roland FP-7F.
Those of you who are looking for a solid product to be used as a gigging piano, and not willing to go in for a Casio or Yamaha, can check out the heavier RD-700NX. It is an excellent sounding digital piano with heavy weighted keys.
Creating a digital piano that sounds and feels as close to an acoustic piano is not an easy task, but most manufacturers do put in their efforts to give you a piano that combines the best of both the worlds – digital as well as acoustic. The Roland V-piano is one such digital piano.
Imagine, a keyboard so well crafted to imitate an old style upright piano, that its sound could fool blindfolded piano players.
This may sound a bit like a hype but then this is what you could expect when playing a Roland stage piano.
Roland stage pianos have been perfected right down to finer details as the key clacks, hammer strikes, responsive midrange, ringing bass, and superior treble response. Even the vibe and sonic heft have been greatly defined to mimic that of an acoustic piano.
Also imagine if the controls of your stage piano felt so smooth and natural that you hated to remove your hands from the keyboard, especially if all the main controls were close at hand and easily accessed.
Great sounding reverbs, chorus, effects as well as split and layering functions may be created with little effort on your part. You could produce fine sounding music that will impress your friends or any musicians you consider playing with.
Conclusions
Roland stage pianos are pricier than most other brands but are well worth every penny because of their superior features. The RD 700SX is the leading onstage digital piano on the market. These units also weigh a bit more than most others but then they look rock-solid as well, making them gig-ready.
Check out the various Roland stage pianos here!
Read more Roland Keyboards & Pianos
Back to Home page from Roland Digital Stage Piano