Roland Arranger Keyboards reviewed here. Roland arranger keyboard are portable, self-contained backing keyboards that come with high quality sounds, drum kits & styles, and powerful built-in spakers. Get instant access to live expressions, professional sounds and authentic backing styles from all over the world. With these Roland arrangers, its easy to Wow the crowd, thanks to their top-level sounds and industry leading auto-accompaniments. Roland arrangers include keyboards that are suitable for the casual players as well as for the one-man-band gigging pros.
Roland Arrangers: Various Models

Roland BK-5 Backing Keyboard

Priced around $1000, the Roland BK-5 arranger synth is packed with professional sounds and world rhythms and is suitable for solo entertainers, hobbyists, casual players and the one-man-band gigging pros. Comes with on-board stereo speakers, USB smart recording and more. It has everything that you need to wow the crowd – high-quality, fresh sounds combined with an easy user interface. Read more…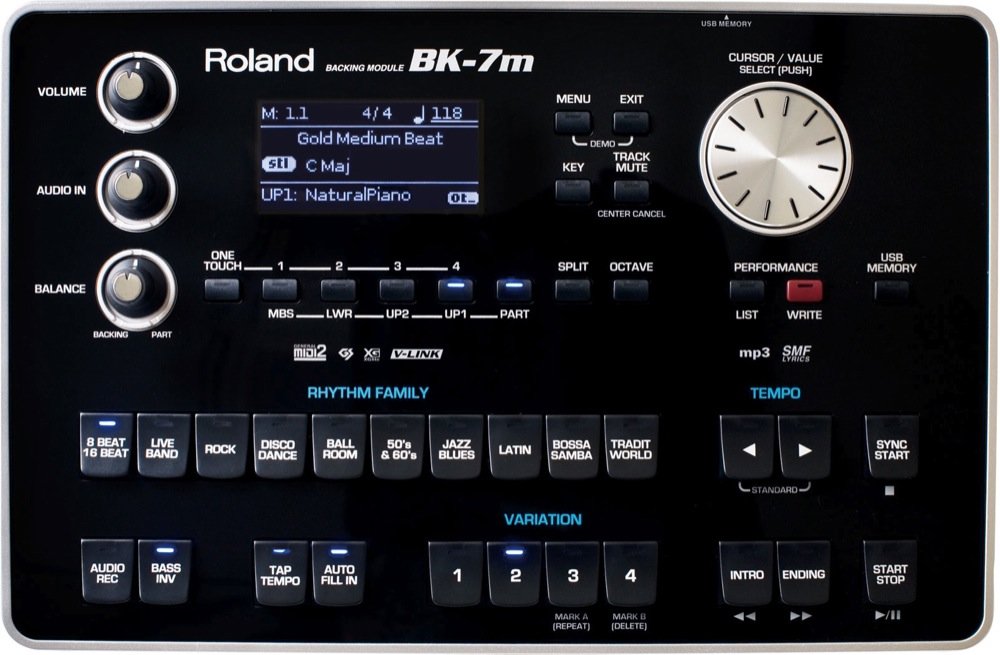 Roland BK-7m Backing Module

Roland BK-7m backing module is an easy way to convert your existing MIDI keyboard into a full-on arranger synth. The module gives you 1,000+ top-class tones, 400 styles and dozens of drum kits. Read more…
Roland GW8 Interactive Music Workstation Keyboard

Priced around $1000, the Roland GW8 is a powerful workstation keyboard that is perfect for the one-man-band, with its velocity sensitive keys and Fantom-X derived sound engine. With its fresh, contemporary sound-set and expressive interactive musical styles from pop to rock, plus authentic ethnic styles and a multi-format USB Memory Player feature, the GW8 will bring a world of music to your fingertips. Read more…
---
Roland Music Keyboard Reviews
At the entry level, Roland may not have a wide range of electronic keyboards compared to Yamaha or Casio, but then Roland keyboards have very high quality sounds/styles. Besides, it has superior models that can be used for both playing as well as composing.


It offers you a variety of music styles, including Western, Middle Eastern, and Asian cultures. In addition, they have some amazing synth sounds. Roland arranger keyboard sounds are of extremely high quality, be it cutting edge or normal acoustic instruments like the Piano, Guitar and strings.


Amazing Sounds
Almost all the Roland keyboards have their trademark high quality sound irrespective of the price of the keyboard. Be it the cutting edge sounds or acoustic ones like the string section, drums, guitars or the piano, the samples that have been used are of top quality.


World Music/Styles
A Roland arranger keyboard scores over its competitors in this area as they offer a wide range of ethnic sounds and music styles, including Western, Middle Eastern, and Asian cultures. With a global array of musical accompaniments under your fingertips, you are never going to fall short of ideas to create any kind of music on your Roland arranger keyboard.


Easy-to-Use Interface
Though, all the instruments are packed with a lot of features, it is very easy to access them. Knobs and sliders have been provided for easy access to things when needed. Controllers like the data wheel, D beam, and pitch/mod levers have been provided for modulating your sounds on the fly. Even the LCD screens are large enough to show a lot of relevant information.


16-Track Sequencer
Most of the models have a 16-Track Sequencer which can help you to start recording your own stuff. If you are a teacher, you can even record a difficult piece and then your student can use it as a reference guide. The student can play it back at a lower tempo to understand it. He can even repeat difficult sections by use the marker/repeat function.


Professional Mix
In the higher Roland arranger keyboards, you can find lot of studio effects, mastering tools and additional vocal tracks which you can use to record vocal parts like the guitar or pure vocals. It will provide you all the tools to make that professional sounding mix using just your keyboard.


Computer friendly
To make communication with a PC easier, USB ports have been provided in most of the models. You can use a software sequencer like Sonar or Cubase for your recording, though the Fantom-X and the JUNO series can be used by itself to create complete songs from start to finish. You can even send and receive AIFF/Wav files which can use in your recordings.