Neumann Microphones Buying Guide: checkout their various products and the suitable options for your studio.
Just as Shure is synonymous with microphones, even Neumann is almost synonymous with high-end microphones.
About the Brand

Founded in Berlin in 1928, over the years this brand has been making highly customized sound production units for radio studios, theaters and concert halls, in addition to making microphones.
This brand was later acquired by the Sennheiser Group in 1991.
Neumann offers several high-end products to its customers in the areas of TV and radio broadcasting, recording, and audio productions.
Neumann Microphones: Preferred by Pros
If you ever get a chance to visit a professional audio studio, just notice the brand of the mics used, most probably it would be a Neumann microphone.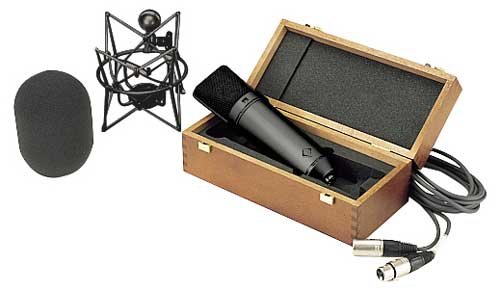 Neumann U87Ai Large-Diaphragm Condenser Microphone

The iconic Neumann U87Ai large-diaphragm condenser mic delivers a smooth natural sound and is still going strong after 50 years. Use it in the studio for vocals or for just about everything else.
Neumann TLM-103 Studio Microphone
The Neumann TLM 103 Studio Microphone is basically a large-diaphragm condenser for vocals, voiceover, and just about everything else. The mic delivers detailed & clear sound at extremely low noise. Minimal self-noise and a wide dynamic range. The TLM 103 is used for pro or project studio use, for classical recordings, Foley work. Its also robust for live stage use.
Neumann Tlm 103 Anniversary Package (Mic with Shock Mount and Case)
The Neumann TLM 103 Anniversary Condenser Microphone is a large-diaphragm mic for all professional and semi-professional uses. Features very low self-noise and the highest sound pressure level transmission, requires phantom power. Includes aluminum mic briefcase and EA-1 elastic suspension mount.
Neumann TLM 107 Multi-Pattern Condenser Microphone
The Neumann TLM 107 is a 5-pattern large-diaphgram condenser that's capable of capturing everything from vocals to drums with pure accuracy, plus an airy 8 kHz boost, especially when tracking vocals. Use it for studio, broadcasting or for demanding home recording applications.
Neumann TLM49 Cardioid Condenser Microphone
The Neumann TLM 49 transformerless, large-diaphragm condenser is based on the iconic Neumann M49 and U47 mics, and betters nearly any vocal with its gentle presence boost. This mic ensures low you get self-noise and the allows high gain levels.
Neumann KMS 105 Pro-Stage Super-Cardiod Condenser Microphone
the Neumann KMS 105 Pro Stage Condenser Mic allows you to bring the legendary Neumann studio sound on stage. It comes with high SPL capabilities, low handling noise and excellent feedback rejection. High acoustic resolution, smooth frequency response, low coloration, self-noise and low cross-talk. Its particularly good at suppressing sounds originating from the sides of the microphone. A wide frequency range and amazing resolution for a hand-held microphone.