Want to connect your midi keyboard (or for that matter any kind of MIDI gear) to your computer. Using a MIDI interface is the easiest way to do so. With this interface, you can connect MIDI keyboards, sound modules, and other MIDI gear to your computer. These interfaces accept standard 5-pin DIN MIDI cables, and convert 5-pin DIN MIDI to standard USB connectors.
What is an MIDI interface?
A MIDI interface is a device that allows equipment such as keyboards and sound modules to be connected to each other, but most often connected to a computer.
These equipment are usually cross-platform so it should work equally well on Mac or PC.
If you have recently got yourself an electronic keyboard, such as Yamaha or Casio, you would know that its easy to connect it to a computer and work with a range of software.
However, depending on the model you have, the keyboard may not be able to make a direct USB connection to the computer, and USB is the simplest way to make the connection.
That is where an inexpensive midi interface can solve your problem, in case you don't intend to do anything fancy with the setup.
You can however also connect your computer to a MIDI controller or a sound module, you just need to plug a MIDI interface in between. These interfaces convert the 5-pin DIN MIDI to standard USB connectors.
Here's a video that shows how to make the various midi connections using a midi-interface:
Do you really need a MIDI interface?
There are many who use the term 'midi interface" to also refer to an audio interface, which is actually a slightly different device as it lets you connect mics & usually comes with a preamp as well.
First thing you need to decide is whether you are going to record live audio such as vocals and guitar or your music will consist primarily of electronic music (more of loop based, sound modules, keyboards and so on).
If you are going to record vocals, then an audio interface will be required, and it will most likely have the midi ports so you will not need a separate midi interface.
If you are not going to record audio, then you would need a midi interface.
But here also, there is another thing that you need to check.
Some MIDI keyboard controllers now come with a MIDI interface built-in so if you intend to setup a simple recording setup and don't have a keyboard controller yet, then you may want to check out MIDI controllers such as CME VX Series.
It could be the perfect solution for you.
MIDI Interface Specs
MIDI interfaces commonly come in 2-, 4-, and 8-port configurations. So an 8-port midi interface will have 8 Ins and 8 Outs.
The simplest interface has just one MIDI In port and one MIDI Out port, which allows 16 channels of MIDI data to flow to and from a connected device.
USB Midi Cable Interface: Easily Connect your Digital Keyboard to Computer
A USB midi cable / interface is the easiest way you can connect your digital piano keyboard to a Computer – PC or Mac.
One of the most important reason people want to connect their keyboard to a computer is because they want to save/edit their songs on a computer.
Once your song is on a computer you can do a whole lot of things with it.
But before you can connect your keyboard to a computer, you will need a MIDI cable. Lots of people are not sure on how to make this connection but it is not at all difficult as you will see further.



USB Midi Cable – Connection Made Easy
A USB midi cable is the easiest way you can connect your keyboard to a PC.
It is as simple as plug and play!
Every PC will have USB ports and normally, you will find MIDI jacks behind every keyboard.


So you need to take your USB cable and connect the USB side to your computers USB port and the MIDI side to the MIDI In/Out of your keyboard.
That's it!
Now you should be able to transfer MIDI data from your keyboard to the computer.



Popular Models / Brands
Hosa USB to MIDI Cable
Connecting you MIDI equipment to your computer's USB port has never been easier.
Simply load the included driver and connect the cables — it's that easy!
M-Audio MIDISport UNO 1×1 MIDI Interface
The MIDISport Uno is a 1×1 MIDI interface (with Cables and Connectors) that is totally portable, hot-swappable, and powered completely by your computer's USB port.
Drivers support all Windows operating systems 98SE and higher, as well as Macintosh OS 9 and Mac OS X.
Cakewalk UM-3G 3×3 USB MIDI Interface
3-In/3-Out MIDI Ports (female). Controls up to 48 channels of MIDI equipment.
Mark of the Unicorn (MOTU) MIDI Express 128 8×8 USB Interface
The MOTU Express 128 is a USB MIDI interface that provides 8 MIDI inputs and 9 outputs, with up 128 MIDI channels of operation.
E-MU XMIDI 1×1 TAB USB MIDI Interface
The updated EMU Xmidi 1×1 is a plug-and-play USB MIDI Interface. Featuring a new look, the Xmidi still provides an ultra-fast MIDI input and output (16 MIDI channels in/out) to your computer. The Xmidi 1×1 is bus-powered for total portability and offers status indicators for input signal, output signal and power. Indicator lights are available on the cable which tells you if the cable has been properly connected. There are also lights to indicate if the data transfer is happening correctly.
Latest USB Drivers – For Connection Issues
The UX16 cable should work with both Windows and Mac and as such the connection mentioned above should work without any problem.
In case you face any difficulty, you can download the latest USB Drivers here.
Once the connection is done, you are on a roll. There are endless possibilities to what you can do with your music once it is on your PC. You just need to have a decent computer and sequencing software.


Popular MIDI Interfaces
Here are some more popular MIDI Interfaces.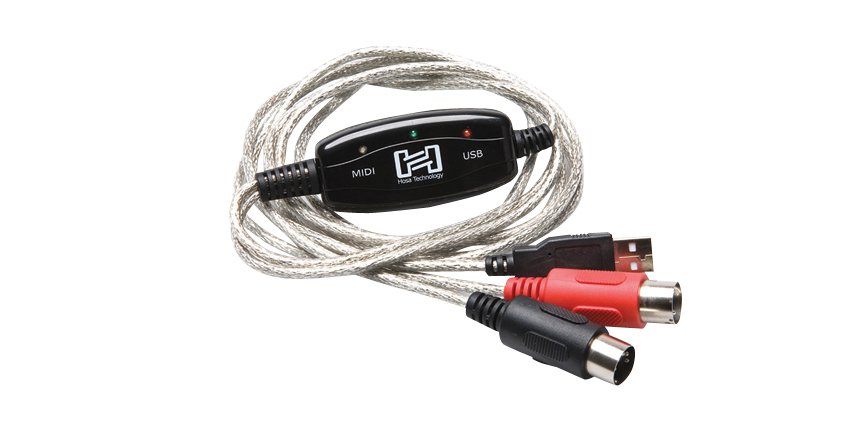 Hosa USM422 USB to MIDI Cable
Connect your MIDI device to your computer easily with the Hosa USM422 USB to MIDI cable (6 Foot MIDI, 3 Foot USB).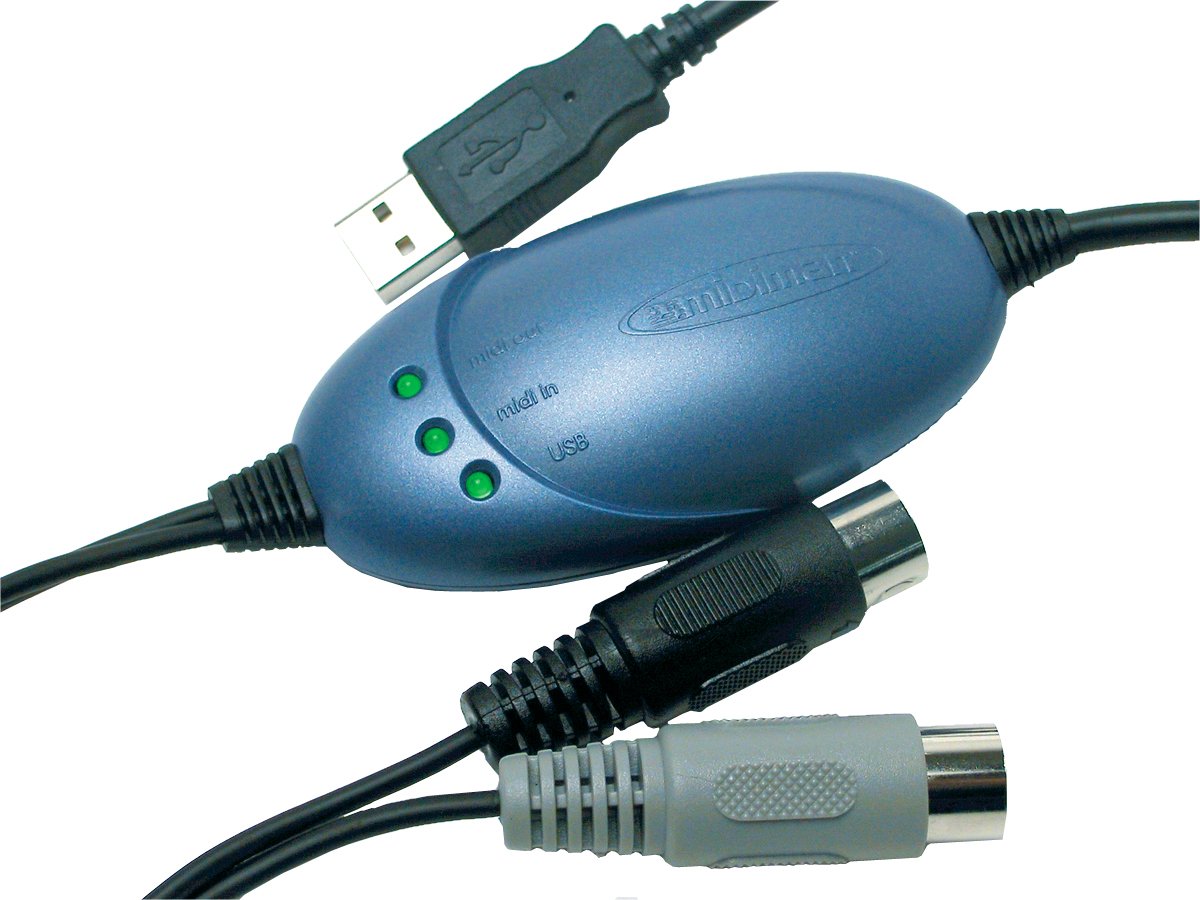 M-Audio MIDISport UNO, 1×1
The M-Audio MIDISport UNO 1×1 USB-powered interface connects your MIDI device to a Mac or PC with ease. It comes with all the Cables and Connectors.

MOTU Micro Lite, 5×5
The MOTU Micro Lite USB MIDI Interface provides a 5 in and 5 out plug-n-play MIDI interface for any Mac or Windows computer.

MOTU MIDI Express 128, 8×8
The MOTU Express 128 is a USB MIDI interface that provides 8 MIDI inputs and 9 outputs, with up 128 MIDI channels of operation.
---
More Midi Interfaces on zZounds
---
Wireless MIDI
Technology is changing fast in this area as well and now you do get a wireless MIDI interface, such as the CME WIDI-X8 that can actually send MIDI information via radio transmitter, just as a wireless microphone transmits voice.
The advantage of wireless is of course a much cleaner desktop setup and the ability to change setups without having to rewire. This is a big plus for someone who has lots of equipment in his/her music recording setup.
Back to home page from MIDI Interface