Keyboard expression pedal: Use it to control various parameters like volume, modulation, panning, and lot more. You can expand and unlock the full creative scope of your controller or keyboard using an expression pedal. You can easily manipulate any midi assignable control or parameter in real time – including volume, modulation, panning, filter sweep and more. Most expression pedals have a polarity switch for compatibility with most keyboards, controllers, synthesisers and effect devices that have an expression pedal input.
Recommended Keyboard Expression Pedals
When you want to get the most out of your performance, you need access to all of your instrument's tools. Expression pedals allows you to unlock the full dynamic potential of your MIDI controllers, synths and keyboards that come equipped with an expression pedal input.
Though there are several keyboard expression foot pedals that are available for musicians, here are a few good ones.
Moog ACCEP003 EP3 Expression Pedal


EP-3 is robust, works smoothly, has superb craftsmanship. Universal expression pedal designed to work with any keyboard, synthesizer, or pedal with an expression or CV input.
It has a polarity switch that allows it to work with non-Moog products, a scalable output knob for specifying musical range. A 1/4″ output jack on the front panel accepts the supplied 6.5′ cable, or you may use a different cable length that suits your needs.
M-Audio EX-P Expression Pedal


Made of durable-yet-lightweight molded plastic, and has a textured, slip-resistant surface for better grip on the floor. Features an integrated 1/4″ cable and a polarity switch that allows it to work with most brands of keyboards and controllers. Instantly control any assignable variable MIDI controller value, including volume, pan, modulation, and many more.
Yamaha FC7 Volume Control Pedal


Yamaha FC7 is a volume controller that allows you to control/adjust the volume, and even the effects of your instrument. Its solidly built, and a heavy-duty controller. The "fortissimo function" allows you to accent certain parts of a performance. Adjustable pedal angle, spring point adjustment and metal connection plate for multiple pedal "ganging". You can also use it to control one of the many effects parameters of the STOMP Series products. 5′ cable, 1/4″ jacks. Volume controller that allows you to adjust the volume and even the effects of your instrument.
Roland EV-5 Expression Pedal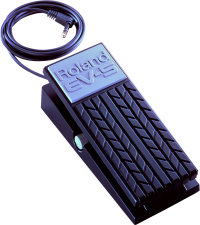 Roland EV-5 Expression Pedal functions as a multipurpose pedal for many Roland and BOSS products. You can use it as a volume pedal, real-time parameter control pedal, or data-entry pedal, depending on the instrument.
Feels great, slides smooth. The only problem is that you have to use the built in 1/4 in cord.
BEHRINGER FCV100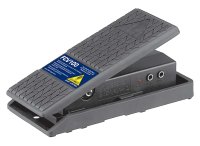 BEHRINGER FOOT CONTROLLER FCV100 works both as a volume pedal or a modulation pedal. Volume control of 1 stereo or 2 individual musical instruments. Dedicated modulation function for direct connection to keyboard's modulation control input. Adjustable minimal volume. VCA control for reliability and smooth performance. Dual-Mode Foot Pedal for Volume and Modulation Control, several routing options. Standard 9 V battery or 12 V DC adapter operation (not included). Get louder, get quieter, or get modulated with the FOOT CONTROLLER FCV100.
Expression Pedal: Guide
Synthesizers & Electronic keyboards nowadays come with hundreds of sounds. They also come with many effects. In addition they also provide features to modify the various parameters of those sounds and effects.
Why Should You Use It?
Ability to change the various parameters in real time, as your hands are busy playing the keyboard, is something of immense help to you as a performer.
This is where expression pedals are of great help, since you can use your foot to operate them.
Unlike a sustain pedal which holds the notes for a longer duration, a midi expression pedal lets you control parameters like volume, modulation, panning, etc. On its own, the various pedals cannot produce any sound, but it helps you to control the devices that make sounds.
Connections & Setup
An expression pedal basically looks like a small box and has an attached cable which goes in the expression pedal input of your keyboard/synthesizer.
Usually you will also find a polarity switch on these expression pedals which ensure that the pedals are compatible with different brands of controllers and keyboards.
Can An Expression Pedal Be Used As a Damper (Sustain) Pedal for Keyboards?
A sustain pedal is a popular keyboard accessory used for sustain notes on keyboards. But can an expression pedal be used as a sustain pedal?
Technically yes!
You will need to set up the pedal to send the standard MIDI sustain controller code (CC64) (in hardware configuration or using some MIDI conversion utility). While most sustain pedals can only send CC64 value 0 for "up" and 127 for "down", there are a few advanced sustain pedals that send the entire 0-127 value range.
But an important factor is the feel of the pedal.
Formally trained piano players are not going to like the action of most expression pedals, especially for sustaining notes, the mechanics of an expression pedal is totally different from that of a sustain pedal.
Its also important to know that an expression pedal should not be plugged in the jack meant for sustain pedal. The sustain pedal contains a momentary switch, while the expression pedal is a potmeter, so the connection won't work.
So if your requirement is only for sustaining notes, why not buy a sustain pedal instead?
Things To Look For!
Usually a sturdy and heavy box gives a solid feel and ensures that the pedal stays firmly under your foot.
It also ensures that the pedal does not move while you are performing. The downsize being they would be heavy to carry around.
The expression pedal also needs to be smooth to operate and should ideally cover the full midi value range (0 – 127). The values need to get from 0 to 127 in a fluid manner without being lumpy.
Another useful feature that most of the expression pedals have is a spring that brings the pedal back to the normal position when you lift your foot. You can disable that feature if you don't like it and don't want to use it.
Popular Keyboard Expression Pedals

Here is an expression controller pedal from m-audio that works with all M-Audio MIDI controllers that have an expression pedal input. But that does not mean it will not work with keyboards of other make. The polarity switch on this pedal ensures that it works with most other controllers and keyboards brands.
Another alternative, if you are looking for controlling volume and for modulation, is this Behringer dual-mode foot pedal. You can use this controller to increase/lower the volume and for modulation.
If you are a moog equipment user, be it the Little Phatty or the Minimoog Voyager or anything else, you will like this Moog expression pedal.
The most advanced and fully featured pedal is this Roland dynamic foot pedal and MIDI controller. Anybody who plays keyboards as well as the guitar / bass will find tis extremely useful. Since it is a midi controller as well, it lets you play a variety of sounds from any external MIDI device, leaving your hands free to play either keyboards or guitar or bass.
Question:
Hello, under "expression pedals" you state "Another useful feature that most of the expression pedals have is a spring that brings the pedal back to the normal position when you lift your foot. You can disable that feature if you don't like it and don't want to use it." I'm looking for this feature but I do not find it in any expression pedals. I have an FC7, but the spring feature is only activated near the extremes of the pedal operation. Which pedals have this feature? Merrick
Looking for a 3 switch foot controller…I have a Technics KN6500 Keyboard and I am looking for a 3 switch foot controller. Do you have something that may fit? Ryszard N.