How to Buy Guitar Amp – Guide to Guitar Amplifiers. This simplified guitar amp guide explains the various types of Guitar amplifiers and the various factors you need to consider before buying one. Also find Guitar Amp Reviews of the best models for beginners and experienced guitar players
Best Guitar Amp Reviews
To fully experience the magic of a fine guitar, you need to plug it into an equally fine amplifier. Whether you're playing in smaller venues or in concert halls, find the desired amplification to get heard from the front row to the rafters.
Best Beginner / Practice Amps
Here are some great options for beginners.
Vox amPlug AC30 Guitar Headphone Amp
Vox amPlug AC30 Guitar Headphone Amp plugs directly in to your guitar, you then just need to plug in your headphones and enjoy some great Vox tone.
Peavey Vypyr 15 Modeling Electric Guitar Amplifier
Peavey Vypyr 15 Modeling Electric Guitar Amplifier is compact, and sounds like a real tube amp.
Vox VT20PLUS 30-Watt Guitar Combo Amplifier
Vox VT20PLUS 30-Watt 1×8 Guitar Combo Amplifier uses a 12 AX7 vacuum tube for true-tube tone, comes with 8 User Programs for saving your favorite custom settings.
Bugera V5 5-Watt Class-A Valve Amplifier
The Bugera V5 5-Watt Class-A Valve Amplifier Combo comes with Reverb and Power Attenuator. Good sound and build quality (no rattles), and value for money.
Vox AC4TV All-tube Practice Amplifier
Vox AC4TV All-tube Practice Amplifier comes with EL84 power tube, 12AX7 preamp tube, custom-made VX10 Celestion 10″ speaker.
Here are more powerful Guitar Amps, for the experienced players:
Vox AC15C1 Custom Guitar Combo Amplifier
Vox AC15C1 Custom Guitar Combo Amplifier is a 2-channel 1 x 12″ amp that's dripping with classic jangle.
Fender Hot Rod Deluxe(TM) III
The Fender Hot Rod Deluxe III is a 40-watt single 12″ combo that comes with a versatile all-12AX7 tube preamp, comes with Fender spring reverb, effects loop.
Line 6 Spider Valve 112 MkII 40-watt 1×12 Guitar Combo Amp
The Line 6 Spider Valve 112 MkII 40-watt 1×12 Guitar Combo Amp has 12-inch Celestion Vintage 30 speaker; two 12AX7 preamp tubes; two matched 6L6 power tubes; 4 channels; 128 user-programmable presets.
Marshall MG100HFX 100 Watt Amplifier Head
The Marshall MG100HFX 100 Watt Amplifier Head comes with four programmable channels, digital reverb, plus digital effects with Tap Tempo delay control.
Peavey ValveKing 112 Combo Amplifier
The Peavey ValveKing 112 Combo Amplifier comes with two 6L6GC and three 12AX7 tubes, two independent footswitchable channels.
---
Great deals on Guitar Amplifiers on Guitarcenter
---
Guitar Cord / Cable
You'll need a guitar cable to connect the guitar to the amplifier. For this, you'll need a 1/4″ guitar cord, one end plugs into your guitar and the other will go into the amp.
Its a good practice to make sure the cord is plugged in, before you turn ON the amplifier.
Planet Waves American Stage Guitar and Instrument Cable (15 feet)
The Planet Waves American Stage Guitar Cable allows smooth sound transfer from the instrument to the amp and/or pre-amp, and provides very low handling noise, great for home practice, stage and studio.
---
There are several types of guitar amplifiers to choose from, such as combo, mini, power amps and so on; you need to use one based on your requirements.
You'll find guitar combo amps that come with 6 inch, 8 inch, 10 inch, 12 inch, 15 inch speakers, depending on how big the venue is. Some come with one speaker while some may come with two built-in speakers.
For those interested in guitar amp heads, you can choose from different watt ranges such as below 50 watts, 50-100 watts, 201-300 watts, and above 300 watts, these will require separate speakers.
You will also find several guitar mini amps and guitar power amps.
Then are guitar amp cabinets that come with 8 inch, 10 inch, 12 inch, 15 inch, and 18 inch speakers.
Guitar stacks are also available. You will find several half stacks and full stacks to choose from. Plug in and get ready to rock.
The Internet makes it easy to find the guitar amp you're looking for. You can get a great deal and free shipping today. Click here to view a wide range of guitar amplifiers.
What Guitar Amp to Choose
The amplifier is the backbone of your guitar rig, and you have lots of options available to choose the right amplifier for your rig. A massive Marshall stack (or stacks) at your back serve is meant to blow the faces of your audience. A smaller, hand-wired tube amp (from Vox or Fender) is perfect for the guitarist who values craftsmanship more. For those who wish to stay at top of the game (in terms of technology), a feature-loaded Line 6 or Peavey modeling amp is the one for your rig.
Wattage plays an important factor, if you want to be heard over the other instrumentalists in the band (especially the drummer). Here, you will find amps of various wattage levels, plus replacement speakers and other useful amp accessories, available to make the life of the working musician easier.
You may choose from a range of Solid-State, Tube, Modelling, Hybrid Amplifiers for Guitar. If you're not sure which amp is right for you, our Guitar Amplifier Buying Guide is the place to start to find the stack, head, cab, combo, or acoustic amp you need.
---
Guitar Combo Amps: These are perfect for musicians, looking for a compact solution. Various Guitar combo amp models are available, including tube classics to modern modeling amps.

Guitar Amp Heads: With these amps, you just have to plug in and get playing. Guitar amp heads are available as low-watt recording amps and can also cost over $1k.

Acoustic Guitar Amps: When playing acoustic guitar, you want to be heard on the stage. The acoustic guitar amps generate crisp tone and sound, and are designed for monitoring or mains purposes.

Guitar Amp Accessories: Foot controllers, amplifier stands, tubes, speakers, you get Guitar Amp Accessories to get the most out of your guitar amp.

Guitar Speaker Cabinets: Make yourself heard with one of these guitar cabinets. Cabinets with 1×12 extension or a powerful 4×12, you will find it all here.

Guitar Stacks: Plug in and get ready to rock. You may choose from a range of iconic guitar half stacks and full stacks, available in every size.

Guitar Mini Amps: Want a more portable option, along with great sound? You may consider mini / micro guitar amps that include features like battery power and tonal modeling.

Danelectro N10 HoneyTone Mini Guitar Amplifier


Guitar Power Amps: Want to add more power to your rig? Get one of these guitar power amps to provide extra wattage so that you can add extra extension cabinets to your amp setup.
---
If you have done a bit of research on Guitar Amps, then I'm sure you would have come across several questions that probably needs answering.
Here's a simplified guide on understanding Guitar Amplifiers that will hopefully answer all your queries on how to buy guitar amp.
I will try to make this is less technical as possible. You really don't have to go into the details but just having a brief idea of what the various types of guitar amps are available in the market will help you make the right choices.
Usually when it comes to buying just the musical instrument, most people understand the basics after some research but amplifiers can be technical and difficult to understand.
Guitar Amplifier Basics For Dummies
Before we go into the details, here's a quick overview of guitar amplifiers.
At the most basic level, you need to know that the various guitar amplifiers are either solid-state or tube based, and then there are other variations which use technology that is based on these two types (hybrid amps).
The output/volume is decided by the wattage of the amp. The more the wattage, the more its suitable for bigger venues. Most practice amps are around 30 watts, for performing in smaller venues you need around 50-80, and you need at least 100 watts for a large live gig setup.
An amp, in general, consists of a box or cabinet (usually wooden) which contains:
Loudspeaker(s)
Electronics-chassis designed with either transistors. or the classic 'vacuum tube(s)'.
Interconnecting wiring or circuit boards to facilitate mass-manufacturing.
How Does It Work (the connection)?
Here's how the connection is made, and how the overall sound is produced:
The sound signal that is produced from the pickup(s) assembly is sent to the volume and tone-shaping control(s) mounted on the guitar, for bass and treble adjustments, from where it goes to the output jack on the guitar.
The output jack of the guitar is connected, using a guitar cord (standard 1/4-inch phone plug) to the guitar amplifier's input jack.
The signal at the input of the electric guitar amplifier enters a pre-amplifier stage, where the signal is boosted, and tone shaping such as bass-mid-treble, or effects such as 'reverb' or 'chorus' are applied.
The signal then moves to the main power amplifier, where its boosted several times louder than the original one coming from the guitar.
The output from the power amplifier goes to the loudspeakers where the cone-assemblies move large volumes of air, creating the amplified sounds.
Solid-State or Tube?
Since the two basic types of guitar amplifiers are Solid-state and Tube, an obvious related question would be which is better – Solid-state amplifier or Tube amps?
Most serious guitarists prefer tube amps because of their warm tone and natural distortions but then these amps can be expensive, part of the reason being the scarcity of good vacuum tube manufacturers.
Solid state circuitry, on the other hand, can produce superior clean power at a much more affordable price.
Because of this reason, you will find several interesting hybrids where the basic tone is produced by a tube-driven preamp, while the power amp is solid state. Besides, manufacturers are also churning out amazing new amps that are based on cutting-edge technology.
More on Digital Modeling Amp…
More on Hybrid Amplifier…
Combo Amp or Head & Cabinet?
For smaller venues like clubs and small halls today's combos are well-equipped to deliver plenty of power.
On the other, for big venues like a giant auditorium or open arena, you will need a high-powered amp with a cabinet. Although there are setups where players still use a smaller amp (for their specific tone), and then simply mic the amp and run it through a PA system (this will work provided the PA will be able to handle it)
Does Speakers Size Matter?
Does the size of the speakers impact the sound that gets produced?
One thing to remember is that smaller speakers can produce higher frequencies than larger speakers. For the same reason, tweeter is small (for high-pitched notes) and a woofer (for bass sounds) is large in size.
So, in general, a 10-inch speaker will produce a better "top end" than a 15-inch speaker.
Benefits of modeling Amps
These amps use software and digital processors that simulate the sound of various amplifiers (thus giving you the best of all worlds).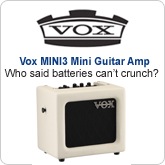 The advantages of using these amps are that:
You get any tone or effect you need
You Get clean rhythm tones to a full-out overdrive
You Get effects like reverb, chorus, phase, flange and delay
You'll get all these in an entry-level amp that can also double as a studio amp
If you look at the more expensive ones, you'll get a fairly extensive library of effects like distortion, chorusing, flanging, wah-wah sound or even multi-effects like chorus and delay plus reverb. Thanks to modeling, all these effects are designed to be amazingly quiet, minus all the noise.
Besides, modeling frees you from the constraints that a particular amp's tonal range may pose.
With the advent of the modern modeling amp, these can serve as a practice amp, studio amp, and live amp.
---
Great deals on Guitar Amplifiers on Guitarcenter
---
Summing it Up
To summarize what we have discussed here on amps:
A guitar amplifier takes a passive electric signal from the guitar and converts it into an audible sound. They don't just amplify, but they also add their own individual color to the sound. Most pro guitarists mix and match guitars/amplifiers to get a certain sound.
Types of Guitar Amplifiers
Micro Guitar Amps:
More portable
Has battery power and tonal modeling
Guitar Power Amps
More power
Provides extra wattage to add extra extension cabinets to your setup
Solid-state, Tube or Modeling Amps
Solid-state is cheaper
Tube-based amps can be expensive
Most experienced players prefer Tube for their distinct sound
Hybrid amps using both technologies are also available
Modeling offers the best of all worlds and are more budget-friendly
Modeling amps can deliver almost any tone or effect
What to Use?
For small Venues most combos will be suitable
For bigger venues, you need a high-powered stack with at least a 4 x 12 cabinet
Best to have one for studio/home work and another for gigs (larger venues)
Popular Brands / Products
Some of the popular brands include:
Fender: Mustang, Marshall, Peavey, Vox
The topic of amplifiers can be a bit technical but not difficult to understand. You will have to look at these sooner or later if you intend to play on-stage. So knowing about the various guitar amp types will definitely help.
Related Posts
Electric Guitar Amps Reviews
Acoustic Guitar Amp Reviews
Bass Guitar Amps Reviews
Back to home page from Guitar Amps Buying Guide