Guide to Condenser Microphones: Why use them and reviews of the best ones that can improve your music recordings.
When it comes to recording microphones, there are various types that exist, each with their strengths and suitable for a particular purpose.
Why Use Them?
If you're looking for a microphone to record lots of high frequencies, you need to use one of these.
Use these to record quieter instruments (that has lots of high frequency content) such as piano, acoustic guitar, and works best for vocals.
A condenser microphone is extremely responsive and more suited for studio purposes (dynamic microphones are usually better for live performances)
Condenser Microphones (aka capacitor mics) are far more sensitive than dynamic mics, especially at higher frequencies.
You also get models which can record very low frequencies, a feature known as 'extended low-frequency response'.
You can use it to record the following:
Vocals
Piano, Acoustic guitar, Electric guitar (not very close to the amp)
Mandolin, Accordion, Banjo, Ukulele
Violin/Viola/Fiddle, Cello, Saxophone
Drum overheads
Recommended Condenser Microphones
AKG P220 Vocal Condenser Microphone
The AKG P220 is a large-diaphragm condenser mic suitable for use in pro studio, recording at home, or mixing front of house. Features cardioid pickup pattern that blocks unwanted sounds from the sides, is ruggedly built yet sensitive and accurate. It comes with an aluminum carrying case and spider shock mount.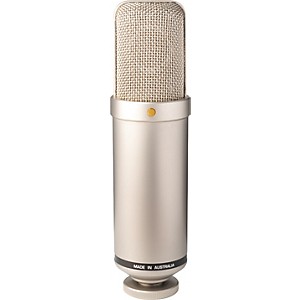 Rode NTK Tube Condenser Microphone
The Rode NTK Tube Condenser Microphone is used by several industry professionals, captures warm, clear cut sound, records what's in front of it and nothing else. Gold plated diaphragm, includes dedicated power supply. You'll need to buy a shock mount and other accessories for it, but there's no doubt the Rode NTK is one of the best condenser mics in business.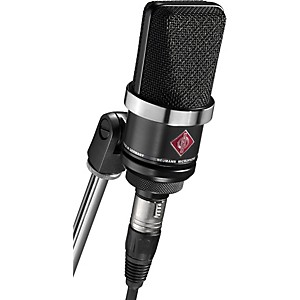 Neumann TLM 102 Condenser Microphone, Cardioid
Neumann mics are among the best in business, on par with the Rode mics out there. The TLM-102 is one of the cheaper models in that series. A huge sound pressure level to 144 dB, a super clean diaphragm, its suitable for the serious musician. Available in silver or matte black.
Phantom Power
These microphones need Phantom power to function. It's a power signal of +48 Volts that is sent to the microphone, usually from the mixing desk.
Most recent audio-interfaces also come with this feature, and some of these mics can also be powered using an internal battery source.
To turn on the mic, you just need to press a button.
If you have a phantom power switch on a mixer, usually that is a global phantom power that applies to all the mic preamps on all the channels. If you want a mixers with individual pre-amps and discrete phantom power capabilities per channel, those tend to be much more expensive.
Remember, phantom power is a requirement for condenser microphones, but it may not be suitable for some other kind; it will most probably blow up ribbon microphones, so it's either all or nothing for each channel.
Transients
It is a measure of how quickly mics react to sound.
Condenser mics are quicker than dynamic ones and can react better across a wide range of frequencies. As a result they provide a more 'accurate' picture of the sound.
But then they are more sensitive to louder sounds and so when it comes to recording higher volume sounds, dynamic mics are preferred.
Proximity Effect
As with most recording microphones, you need to be aware of the 'proximity effect', where the lower bass frequencies become louder as the sound source moves closer to the microphone; it can ruin your recording.
Impact of Diaphragms
This is another factor that impacts the recordings.
The size of the diaphragm is an important feature that you need to consider when selecting a condenser microphone.
Large-diaphragm mics
These are most suitable for recording vocals, as they can add warmth to a sound. You will still need to use a pop shield, to tone down the 'P' and 'SH' sounds.
Small-diaphragm mics
These provide a wide and even frequency response when recording, and are often long and thin in shape.
Small diaphragm also leads to good transient response, which makes them suitable to record piano, acoustic guitars and other soft musical instruments.
Buying Options
Here are some popular Condenser Mics that are also affordable:
Condenser Mics by Audio-Technica, Shure, & Rodes are quite popular.
High-end professional studios prefer to use condenser microphones that are made by Neumann, especially the U47 and U67 models.

Here's a video that shows how a Condenser Microphone works