Best Keytar Reviews: Keytar Prices, Used & Second-hand Keytars for Sale. Keytars look cool, hanging around the neck/shoulders giving you the freedom to fly around the stage and entertain.
Introduction
The earlier keytar models were more like a midi controller; a cable used to go from the Keytar to a sound module to trigger the sounds. However, recent models such as the Roland AX synth are wireless and can generate sounds of their own.
When the Keytar first became famous, there were several manufacturers who caught onto the popularity of the keytar including Yamaha, Moog, Roland, and Casio.
However, as its popularity declined, most manufacturers stopped its production; Roland is the only manufacturer who continues to manufacture them.
The Keytar is now making a comeback. When a keyboardist shows up with a wearable keyboard, people do take notice.
Alesis Vortex Wireless 2 Keytar 49-Key MIDI Keyboard Controller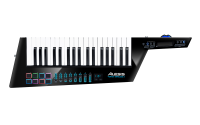 Rock Band 3 Wireless Keyboard for Wii and WiiU
Yamaha P37D 37-Key Pianica

Watch: Yamaha Vocaloid keytar


Keytar Brands
Alesis Keytar
Yamaha Keytar
Roland Keytar
Casio Keytar
Best Keytars
Take a look at these popular Keytars that were used by musicians over the years. In the past, lot of manufacturers made Keytars but now very few of them actually produce these.
Here are our recommended Keytars:
Alesis Vortex Wireless Keytar Keyboard Controller
Equipped with MIDI and USB, 37 touch-sensitive keys, a spread of velocity-sensitive pads, and a host of pitch and modulation controls ergonomically placed on the neck. MIDI-assignable accelerometer responds to neck tilts and subtle movements with pitch bends, vibrato, and other fun performance features.
Buy on zZounds
Korg RK-100s Keytar
The RK-100 remote keyboard comes in a stylish, compact and lightweight body, features a built-in analog modeling sound generator. Includes two ribbon controllers, an arpeggiator, and a vocoder. It also has "favorite" buttons for one-touch selection.
Korg RK-100S Keytar Keyboard: Comes with onboard analog-modeling synth engine, two ribbon controllers, and 37 keys.
Watch: Korg RK-100s Keytar demo


Alesis Vortex Keytar
The Alesis Vortex is a USB/MIDI "keytar", with 37 velocity-sensitive keys (with aftertouch!), eight velocity- and pressure-sensitive pads, a ribbon controller, pitch wheel, and more.
It connects wirelessly to your computer and integrates with popular virtual instruments, plugins, and DAWs. 37 velocity-sensitive keys with aftertouch, 8 velocity-sensitive drum pads. Several knobs, buttons and neck controls. Tweak sounds using the MIDI-assignable touch strip and MIDI-assignable accelerometer. Offers multiple connectivity options and comes equipped with USB-MIDI and MIDI Out.
Alesis Vortex Wireless Keytar Keyboard Controller: Vortex Wireless works hand-in-hand with a USB dongle for a wireless connection to any computer,so you can rock software synths on stage.
Watch: Alesis Vortex Keytar


Roland ST-AX Stand for AX-SYNTH: Keep your Roland AX-Synth close at hand with this lightweight metal stand.
Roland AX-Synth
Roland AX-Synth: Shoulder Synthesizer Keytar

Watch: Roland AX Synth Demo


Roland AX-7
The Roland AX-7 was manufactured during the period 2001 to 2007, and comntained several advanced features compared to its predecessors Roland AX-1 and the Yamaha SHS-10. The Roland AX-7 was later discontinued and gave way to the Roland AX-Synth.
Watch: Keyboard Roland AX7


Roland AX1 Keytar
Roland AX-1 is a MIDI controller only, so the sounds are generated from another source. Comes with 45 keys, velocity sensitive keyboard, pitch bend ribbon, touch like expression bar on the neck, sustain switch.
Watch: Roland Lucina AX-09 demo


Roland Lucina AX-09
The Lucina AX-09 had a slimline design and easy to use user interface. 150 high quality sounds, 37 keys, velocity sensitive keyboard, 128 polyphony. V-Beam for additional expression.
Watch: Roland Lucina AX-09 demo


Roland SH-101
Roland SH-101 was a popular synthesizer in the early 1980s. It had 32 keys and was a monophonic analog synthesizer.
Watch: Roland SH-101 demo


Yamaha SHS-200
You can still find the Yamaha SHS-200 Keytar on the web, definitely on e-Bay. It comes with on-board Voices and Rhythms, MIDI connection, pitch bend wheel, and can be played using a variety of pedals (along with a sound module or effects unit).
Watch: Yamaha SHS-200 demo

Yamaha SHS-10 Keytar
The Yamaha-SHS-10 Keytar comes with 32 keys, a pitch bend wheel, a FM Synth offering 25 different voices, and 6 note polyphony. Also features a chord sequencer, MIDI port.

Watch: Yamaha SHS-10 Keytar Demo


Casio AZ-1
The Casio AZ-1 was a polyphonic MIDI keyboard, designed in the shape of a keytar. Popular in the 1980s, it looked great. Every button, key and knob was midi-programable. Had an external midi jack.
Watch: Casio AZ-1 Keytar demo


Junost-21
The Junost 21 was actually a portable synth that had a handle on it so that the player could throw it over their shoulder and play it. Released in the 1980's, the Junost featured a range of sounds, had a filter control, an octave transposer, a tuning pot.
Watch: Junost-21, soviet analog keytar synth


PMS Syntar
The PMS Syntar was designed by George Mattson in the late 70s. P.M.S. (Performance Music Systems) manufactured these units, but by 1980 Moog Music had a more popular Syntar in the market.
Watch: P.M.S. SYNTAR ANALOGUE SYNTHESIZER


Moog Liberation
Moog Liberation was the first commercially produced "keytar" synthesizers, released in 1980 by Moog Music. 2 VCO synth, LFO with three selectable waves, sliders and switches, ribbon controller.
Watch: Moog Liberation demo


Top Rated Keytars
Keytar Buying Links