Best acoustic electric guitars for beginners, hobbyists and even experienced guitarists looking for a lot of bang for their money. These are also great as gifting options.
There are many users who prefer a guitar that sounds like an acoustic one, but has frets that are easy to play as an electric guitar. If you are one of those, then an acoustic-electric guitar makes perfect sense.
What Should you Get
The brands with better offerings in this category include the likes of Yamaha, Takamine, and even Ovation. These make some really nice sounding guitars for the money.
Fender and Ibanez are more for electric guitars. Martin, Taylor, Gibson, Breedlove, are great brands for acoustic-electric guitars but you need a much higher budget; you may be able to find them cheaper in the used market though.
These have a better build quality, are durable, and you can use it for some time to come. These have a nice tone, and can be used for strumming and even finger picking.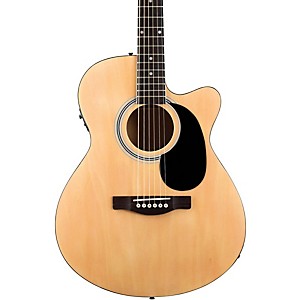 Fender Fa135ce Concert Acoustic-Electric

Features a sleek, modern design. Laminated spruce top, X-bracing for bright, punchy tone (ideal for playing lead guitar). Nato neck, back and sides are laminated basswood (known for letting the mid and high frequencies stand out).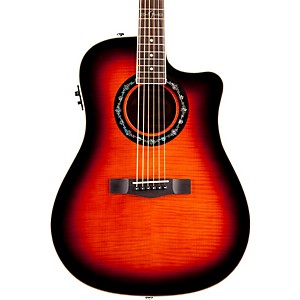 Fender T-Bucket 300CE Cutaway Acoustic-Electric Guitar

Features holographic rosette inlay, quilt ash top option, new 12th-fret "F" logo inlay design, and Graphtech NuboneTM nut and compensated bridge saddle for enhanced tone. Flame and quilt maple tops, mahogany back and sides, body binding and headstock pinstriping, mahogany neck, rosewood fingerboard and bridge, strap-pin and end-pin jacks, and Fishman Isys III pickup/active preamp system with built-in chromatic tuner, on/off switch, three-band EQ and volume control.
Construction
These guitars come with a built in tuner, tone and volume control built in, and it's got an input jack (usually at the place where you attach a strap). When unplugged, you get a smooth sound. When plugged in the amplifier, you can get anything from a low & fat sound to bright & trebly sound, and everything in between.
For this price range, usually you'll not get something that is all solid wood (better sound quality). Maybe for a couple of hundred bucks more, you should be able to find one made of all solid wood.
Recommended Acoustic Electric Guitars
The options that are available here are not only useful for learning, but they will also keep pace with your abilities, as you graduate from beginner to an intermediate player.
Intermediate and experienced players looking for a value buy, with lots of bang for their bucks will also find these options attractive.
Here's the list of acoustic-electric guitars that we discussed.
Epiphone AJ-100CE Acoustic-Electric Guitar Natural Chrome Hardware
If you're looking for a known brand, with good looks and sound quality, then the Fender T-BUCKET-300CE dreadnought acoustic-electric guitar is something that you should consider.
Another good option that looks nice and is quite easy to play is the Applause AE148-RRB acoustic-electric by Ovation.
For those looking for quality at an affordable price, the Yamaha APX500 black color acoustic electric guitar is something that you should consider.
Those of you looking for a bundled package with several useful accessories should consider the Ovation Celebrity ICC24-1 acoustic-electric guitar kit. If you are looking for an inexpensive options, then you may consider the Jasmine ES31C guitar kit by Takamine.
These guitars are great for finger picking and leads and recording, but could feel short of providing that warm chord feeling which an all solid wood guitar has.
Usually, a guitar with lower action is preferred by most beginners as they are easier to play. Some also prefer a comparatively smaller body. These are more of personal preferences though. You should also go for standard dreadnought, with solid spruce top, and solid mahogany back and sides.
To Conclude
Everybody may want a Martin or a Gibson, as they are usually the the number one choice for professional musicians. None of the guitar players however go and pick an expensive Taylor or Martin as their first or even second guitar, they'all go through several upgrades over their lifetime as their skills progresses. In the meantime, these acoustic electric guitars should serve your skills well.